MAMA Overview:
Please note: times subject to change; final schedule will include exact event schedules.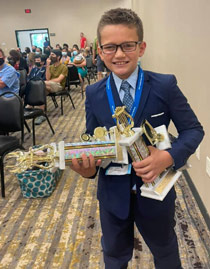 The Mid-America Music Festival will be held Thursday, July 28, through Sunday, July 31, 2022, at the Marriott St. Louis Airport, 10700 Pear Tree Drive, St. Louis, MO 63134. Phone: 314-423-9700 or Toll-Free: 1-877-264-8771.
The following events are available to the students:
1. Solo Division: All contestants will play two selections. One piece must be chosen from the official test piece list and the other can be a choice piece. Both numbers must be played from memory and must be contrasting.
2. Duet Division: Entrants will play two contrasting numbers of their choice. Memorization not required; open to audiences.
3. Hymn/Patriotic and Pop/Blues/Jazz: Entrants play 2 hymns, 2 patriotic songs or one of each (same for Pop/Blues/Jazz); memorization not required; original copy of music must be brought for the judge.
4. Original Composition: Manuscript submitted to judge; composer/contestant performs; memory optional.
5. Piano Competitive Division: Students must participate in the regular solo division; perform one piece from the test list but different from pieces in regular solo division; compete in a group of less than 20 contestants for a 1st, 2nd or 3rd place trophy. Competitive auditions will be Friday, July 29, open to audience; awards and winners' recital held Friday 6:00 p.m. 1st & 2nd place will perform. Time permitting, 3rd pl. winners also perform. 1st place winners may also play on Sunday Honors Recital 11:00 a.m.
6. Student Hobbyist: Entrants on any instrument will play two choice classical and/or "teaching" contrasting pieces. Memory is not required.
7. Composer's Composition: Entrants must also enter the regular solo division. One composer's compositions will be the required list, and the composer will be the judge. Students who enter this division must agree to be present on Sunday morning for an 10:00 a.m. Masterclass if chosen to play in the masterclass.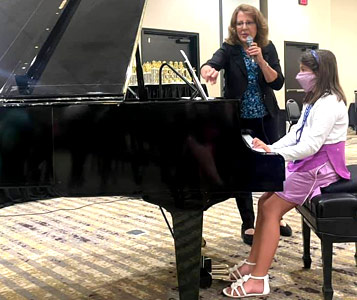 8. Music Quiz Bowl: Patterned after quiz bowls held by many schools; complete guidelines are in Rules & Regulations; team members must also be entered in solo division.
9. Talent Show: Soloists or acts; Junior division ages 12 & under; Senior division ages 13 & over through Spring of 2022 graduates (college age students are not eligible); no lip sync; regarding dress code: costumes with discretion are encouraged with an age-appropriate dress code for a family-style show; time limit 5 minutes; does not have to be your principal instrument but should be related to music; entry number must be different from number used in another judging event; 1st, 2nd, 3rd place cash awards. Check-in for all contestants will be 6:00 p.m.; talent show begins at 6:30 p.m. See rules for more information regarding accompaniment.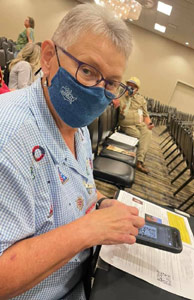 10. Theory Bee: please refer to guidelines in Rules & Regulations. Syllabus is in Test Lists. Theory bee will be held on Friday only.
11. Concerto Division: student plays one movement of one concerto, memorized, any level; accompanist may be the teacher.
Please note:
Contestants may indicate a preference of which day they play; every effort will be made to honor the request; however, no guarantee that every request will be met. All schedule change requests are $10.00 regardless of original request. NO EXCEPTIONS. No entry fees may be refunded once the entries are mailed. No schedule changes after July 15, 2022!
12. For reservations call: Marriott St. Louis Airport. Mention M.A.M.A rate of $90.00. Call the hotel directly at 314-423-9700. Book your group rate for Mid America Music Association. Use this link for reservations. Last day to book is Monday, June 27, 2022!
13 Judging: Depending on the number of entries, judging will be Thursday afternoon, Friday & Saturday all day, and Sunday morning.
14. Trophy Awards will be Friday evening for Thursday/ Friday judging and Sunday (approximately noon) for Saturday / Sunday morning judging. Contestants are strongly urged to attend the Awards Ceremony to pick up trophies for events receiving a Superior rating. Teachers (or another studio representative) may pick up trophies for contestants not present following either awards ceremony, preferably on Sunday, to allow as many students as possible to receive a trophy. Trophies will not be available after the Sunday festival conclusion so please have someone present to pick up your trophy.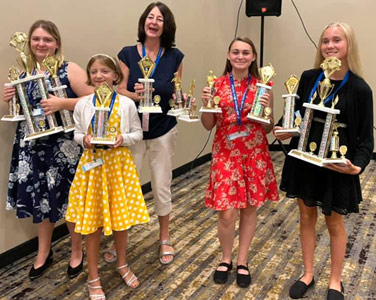 15. If we run out of trophies: In the event M.A.M.A. runs out of trophies at the Awards, they will be mailed to the studio at no cost.
Note to teachers: You may want to use the parent-to-teacher information form for your own student registration and set your own deadline for their entries to reach you. Form with pricing shown is here.
Teachers: Click Here for the Studio Entry Forms
Parents, make your check payable to the Associate Member studio
since one check from the studio must be submitted to the M.A.M.A. office.
Checks will not be accepted from individual entrants.